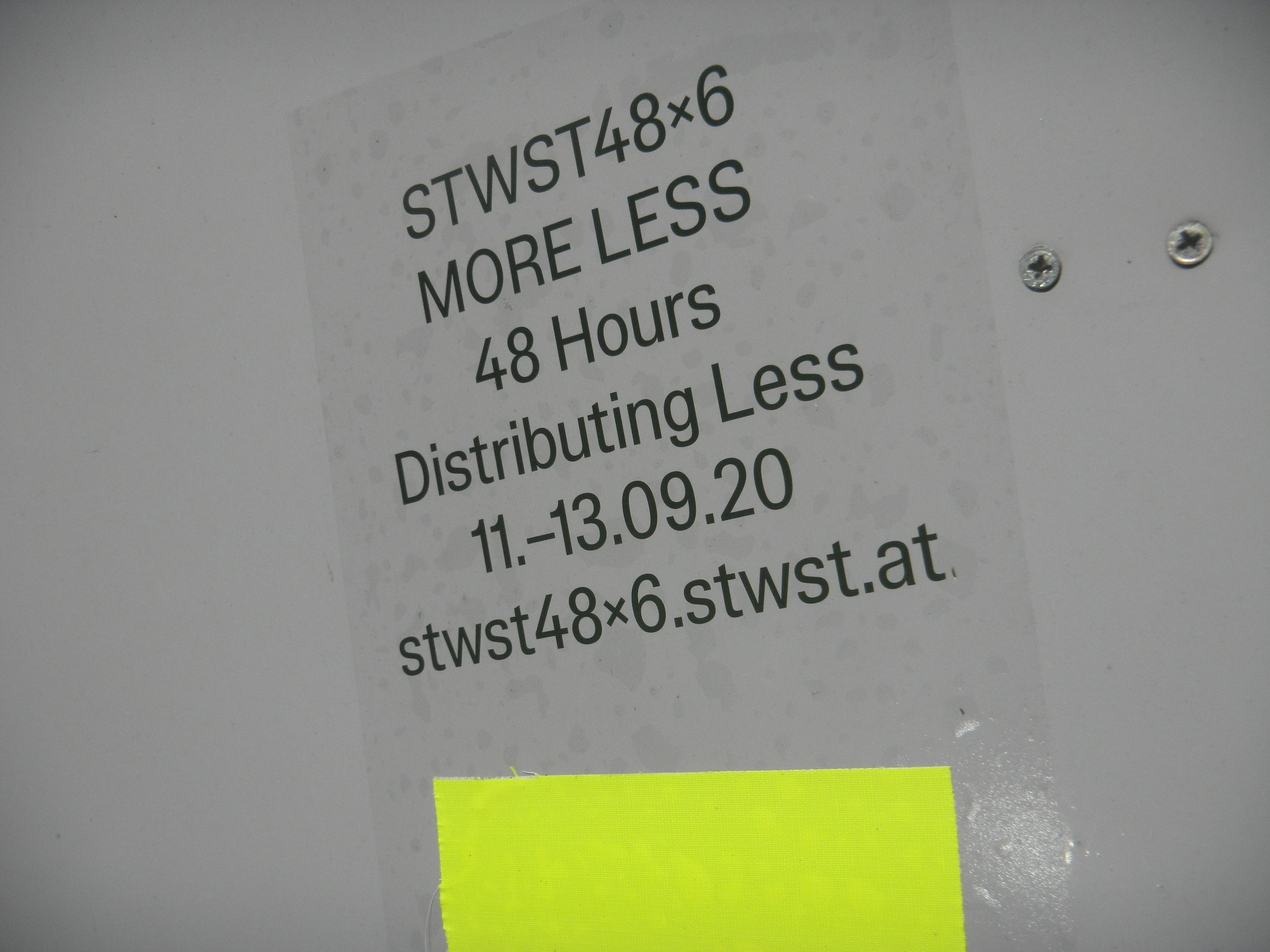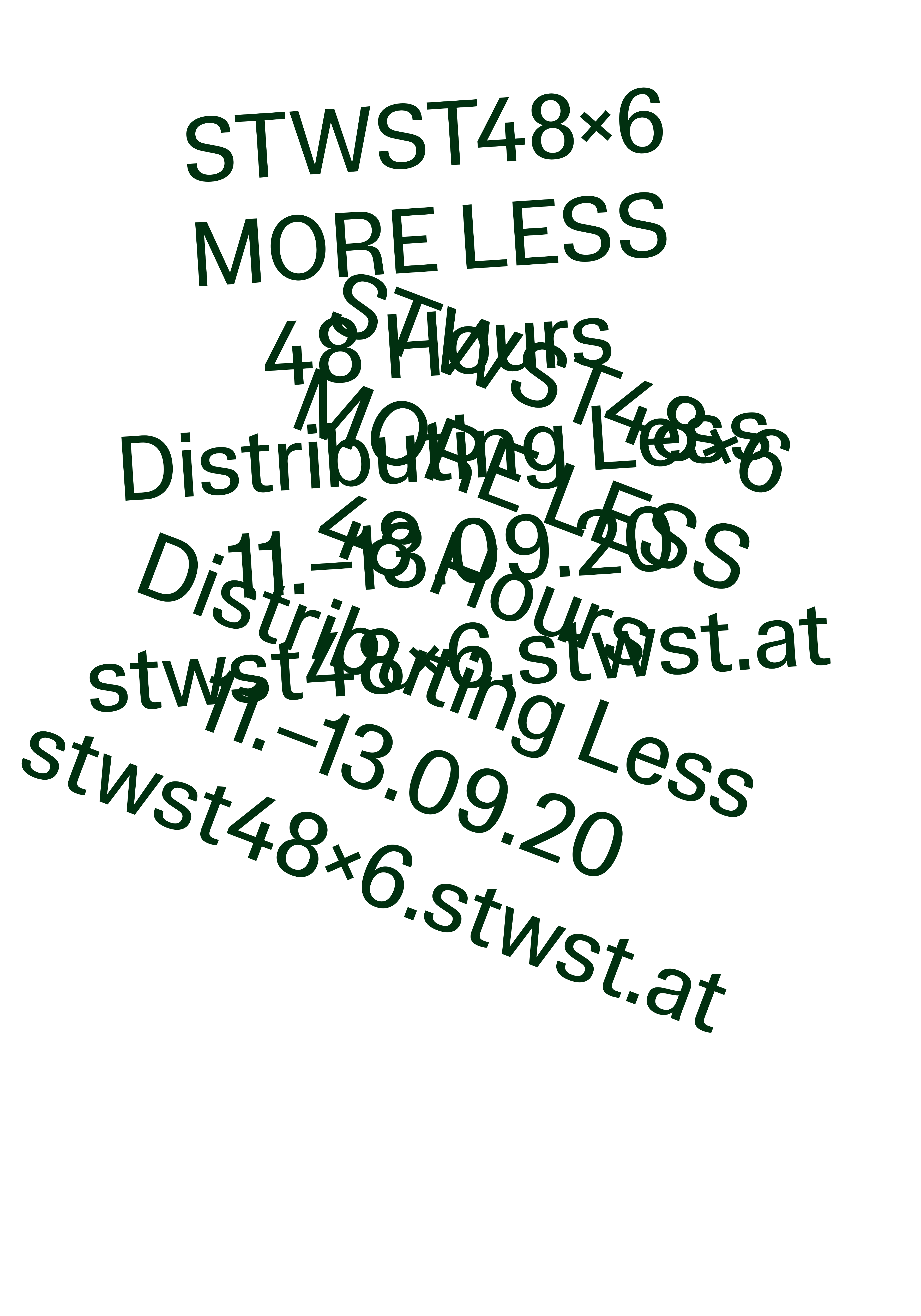 STWST48x6 MORE LESS - ALL PROJECTS:


OPEN CALL
These are the selected projects of the STWST48x6 MORE LESS OPEN CALL:
Breathing – Utterings
Transversal is a Loop – Saša Spačal
Feral Bands – Pali Meursault & Nicolas Montgermont
BLOOMS – Jenny Pickett & Julien Ottavi
ommatidia – mathr & netz
ZOO-M-EARTH – bkeepr1 (AKA Bioni Samp)
Sounds from the Stoneage – Carin Jaeger
F_WALK – fem_arc collective
7 easy tricks to manipulate your peeps in 40 minutes – SILK Fluegge


ASSOCIATED ARTISTS
Works with direct or indirect reference to MORE LESS are shown by ASSOCIATED ARTISTS of STWST:
Mais Matze_Speaking From the Grid Together – Julian Stadon & Sebastian Pappalardo
The only good system – Nani Cooper & Andreas Ullrich
Glashausfantasie 6 - SHIRLEY TEMPEL – freundinnenderkunst
Grundl Panorama – Apephonie Productions and STWST
Untergrundel Audiovision – Electric Ray & Ape Lee
STWST NATURE MONOTONIA
For MORE LESS STWST has designed a field between NATURE MONOTONIA and HYPER INFORMED SOCIAL ACT:
Nature Monotonia – STWST
Social Distanced Maize Maze – STWST und muteaudio, Thu Trang Eva Ha & DJ3XXICA (PYUK edp.)
48-Hours-Redistribution_Don't touch – STWST
Hyper Informed Dough – STWST & Shu Lea Cheang
MAKE BREAD. EAT PICKLE. – Shu Lea Cheang & STWST
STWST NEW ART CONTEXTS
Between theory and practice and since several years, the NEW ART CONTEXTS are critically connected with more or less everything:
Die dritte Natur – Franz Xaver / Infolab
Mein Hirn gefriert bei -273° – Tanja Brandmayr / Quasikunst
ml-iso-la-ti-o-nis-mus – taro knopp / Mycelium Network Society
Notnoponton Reminder – Jakob Breitwieser / DeckDock
EXCURSIONS
This year, we are going to two external locations in the north and south of the city:
Exkursion Messschiff Eleonore – STWST und halfbit
STWST Archive & Exkursion Kunstlager Nord – STWST Archiv
ARCHIVE
Additional archive themes in the house of STWST:
Versorgerin Archiv, Plakat Archiv
STREAMING
Between own art project and the DISTRIBUTING LESS policy of STWST48:
Echovroom – Michael Aschauer
Minimum Content Streaming: 48 hours from the bottom of the river Traun Grundl Panorama
When STWST48x6 starts: Watch out for LESS MORE.
Night hours on ECHOVROOM: Watch out for informal artists.
MONEY
The officially recommended currency during STWST48:
Der Gibling 2020 – OrtnerSchinko
SOCIAL
While STWST48x6 MORE LESS the actual SOCIAL STREAM:
Cafe Strom